Pregledavate arhivu oglasa objavljenih na www.boljiposao.com.
Ovaj oglas je istekao 31.08.2018. i više nije aktivan.
Sadržaj oglasa prikazan je isključivo u informativne svrhe.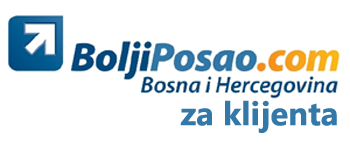 The trading platform provides engineering services (structural engineering) focused on building construction in exchange between Eastern Europe and the German-speaking area. The initiators of the trading platform run several own engineering offices in Germany and have many years of expertise and market presence. The first independent engineering office of the platform in Croatia (Zagreb) is already successfully established. Next step is the foundation of the locations Serbia, Bosnia and Montenegro and their successful entrance in the market.

In order to strengthen the on-site teamsa manager will be needed for the cross-border coordination and the responsible project management, starting 01.10.2018

For this responsible and promising position in Belgrade (Serbia), Sarajevo (Bosnia and Herzegovina), Podgorica (Montenegro)the company is currently looking for a
Senior Project Controller (m/f)
Project management for field of building construction
English and/or German speaking
We offer you a challenging, varied and independent job in the area of project management of building construction. You will be responsible for internal and external project coordination, in regular consultation with the management in Germany and the local partner offices. You will launch new processing standards and support our German team and external planning partners with your professional expertise and tailor made consulting services within the several project phases.

With your diplomatic skills, you are a competent dialogue partner for all participants. Your diverse range of tasks includes many years of experience in structural engineering, the areas of project management, budget tracking and controlling of the current projects.

Qualification and requirements

In addition to your successfully completed degree in civil engineering, architecture, business engineering or real estate management, you will have at least 10 years of professional experience as a project manager of larger projects in building construction or in a responsible position of a planning office.

Ideally you will have acquired knowledge in the relevant fields of shell construction and structural planning. You should be familiar with the planning processes between the parties involved, such as architects, structural engineers and house technicians. Furthermore you should be familiar with the HOAI 2013 (fee order for architects and engineers) and have an efficient level of IT affinity with good experience in suitable software programs.

As a strong communicator for construction planning and project management, you will also present an inspiring and confident professional demeanour to all our stakeholders. It is desirable that you have good German language skills, though spoken and written English is a prerequisite for a successful integration.

We would like to find a motivated and interested candidate, who is characterized by their highly motivated sense of personal responsibility and capacity for teamwork. You will be a fast learner and have the ability to make analytic decisions within a networking context. You will have entrepreneurial thinking, creativity and dynamism. Your interest in your personal and professional development rounds off your profile. If you would like to continue your professional career in Germany in the medium term, we will support you here as well.
Have we piqued your interest? We are looking forward to your personal contact, which of course will be treated strictly confidential. Please apply by forwarding your current CV, covering letter and desired salary via link "Brza prijava".